PEPID: Concise, Actionable Medical & Drug Information Resources
PEPID, One of the best apps for medical students. Also, a recommended app even when you are already a doctor.
A great medical reference that enhances your clinical decision-making skills. It allows you to earn continuous medical education credits while in clinical practice.
Though it targets physicians assigned to the emergency department, it could also be a useful guide for nurses, pharmacists, and paramedics.
Pepid is an all-in-one medical app that includes everything you need to make informed clinical decisions, including; drug information and interactions, a medical calculator, pill identifier, notes and favourites and diagnostic generator.
Medical students love it because it provides up-to-date information and makes it exceptionally easy to access medical information when needed.
PEPID is geared toward helping emergency room physicians make diagnoses. Its content is based on research from the American Academy of Emergency Medicine, Family Physicians Network and American College of Emergency Physicians.
PEPID was First Established in 1994, been a leading developer of clinical and drug information resources and Mobile applications for healthcare providers, hospitals and schools.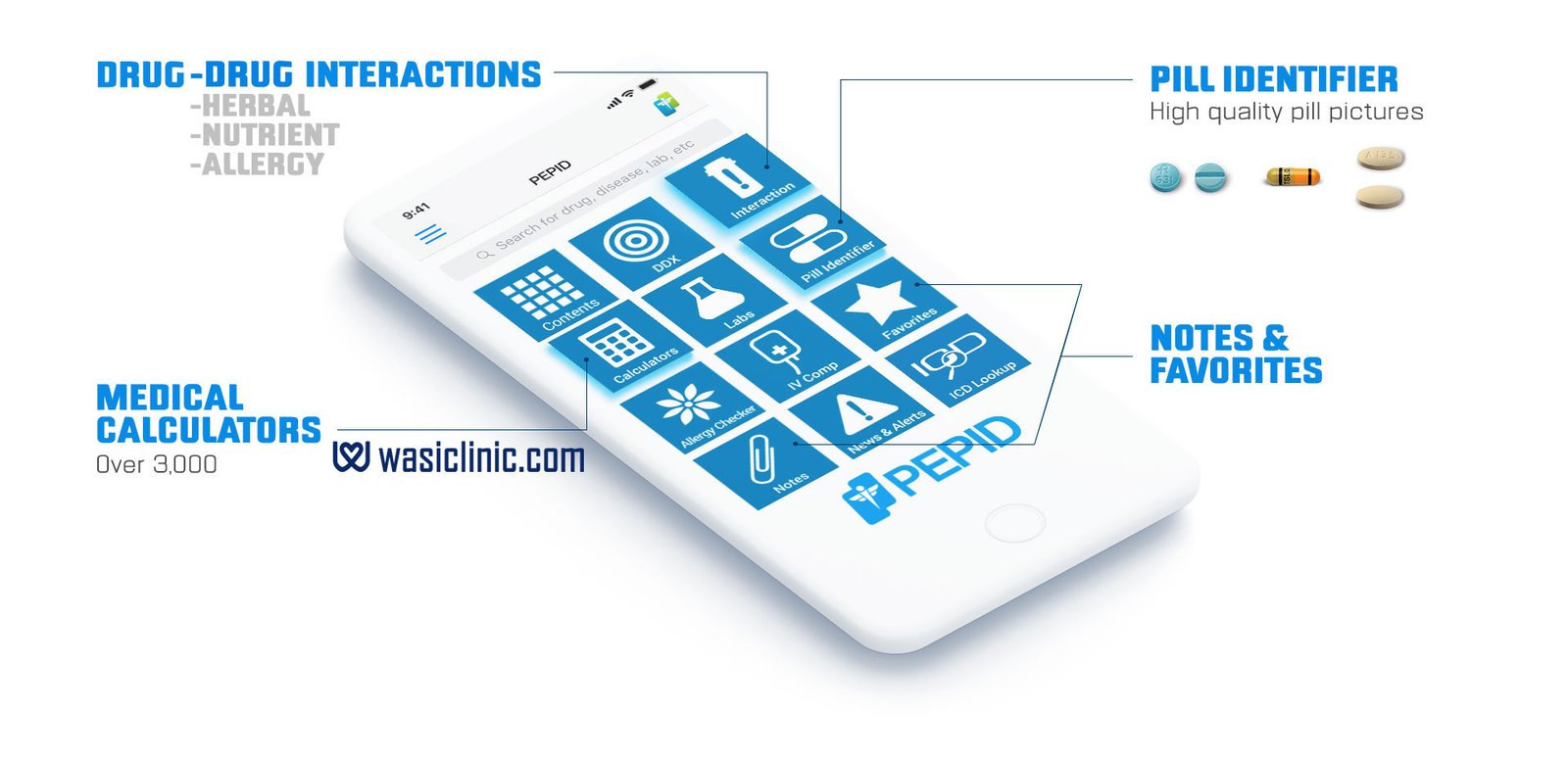 PEPID's Features:
What can you do with PEPID?
Quickly and easily navigate clinical and drug content, take and share notes with classmates and colleagues, find critical drug interactions, and improve your DDx (differential diagnosis) capabilities – all on-the-fly.
PEPID has a symptom checker that could assist you to diagnose faster in the case of interactions with patients. Based on your cumulative assessment: physical exam findings, history, and laboratory and diagnostic exam results, the app suggests possible pathological conditions manifesting in your patients.
It also alerts you of possible adverse drug effects and multi-drug interactions . It offers other safer and more appropriate dosing suggestions.
Has Clear Illustrations, Radiographic images and lab Manuals.
A medical reference that can be customized for doctors, nurses, EMTs, and paramedics.
The information is designed to be quickly absorbed and used in the field, with industry-specific bullet-point lists that provide what you need to know.
Simply input the patient's symptoms, lab results and other findings into the app to determine the best diagnosis for a patient. You can also find dosing recommendations and check drug interactions.
The app features reference videos about clinical procedures and proper ways of performing physical examinations and offers credits for continuing medical education.
It also includes push notifications for the latest medical research. Stay current on the latest research with PEPID.
Cost:
PEPID PEPS is available for $299.99 per year or $25 Monthly. Still, you could also avail of a free trial period without a credit card for 14 days.
While PEPID is expensive, most users agree that its usefulness far exceeds its cost.
Download and Links:
Available for iPhone, IPad, Android Phone or Tablet, Online Connect.
Download it on iOS or Android.
Visit Website: View their website here.